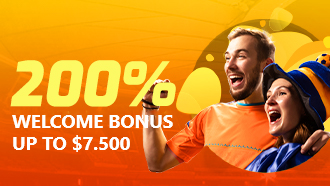 We welcome you with this 200% bonus on your first deposit so you can fully enjoy your favorite sports
PROMOCODE
QUIERO200
Period: Until October 31th, 2022
Days and hours of the promotion: Monday to Sunday from 00:01 hrs. to 23:59 hrs.
The promotion consists of the following: This promotion provides a 200% bonus on a deposit equal to or greater than $500 with a maximum bonus amount of $7,500, which has a 10 times (10x) Rollover requirement before a withdrawal can be requested. It is applicable only for an account's first deposit. It is valid for Sports Betting ONLY and can be claimed through the use of promotional codes created specifically for said promotion.
Prizes to be awarded: 200% bonus based on the 1st deposit of an account. $7.500 maximum prize.
TERMS AND CONDITIONS
• The 200% signup deposit bonus is instantly credited to your Free Play balance for Sports Betting.
• The bonus is exclusive for Sports Bets.
• Minimum deposit required: $500
• The maximum bonus is $7.500
• Promotion only available on the first deposit.
• Bonus Rollover requirement is 10x (10x) and 1x (1x) original deposit before funds are eligible for withdrawal.
• Promotion expires on Octoner 31, 2022 at 11:59:59 p.m.
• Sports Betting Rules apply.
• General House Rules apply.
• Terms and Conditions of Use apply.
• In a reload deposit or in the fulfillment of the requirements, marked in the previously announced promotion (reload deposit, subscription on the web page, update of data on the web page, promotional code, provision of personal data for contact), the client will receive the prize marked in the advertised promotion.
• By claiming the bonus and linking it to a deposit, the terms and conditions of the bonus are automatically accepted.
• Only adults can participate.
• The winning participating client will be the only one who may claim the prize and/or gift, may not omit the rules of the promotion, and may not be advised.
• The participating client accepts all the terms, conditions, and rules established in the promotion.
• What is not covered by these rules will be resolved in accordance with the provisions of the Federal Law on Games and Raffles, its Regulations, permit number SEGOB DGAJS/SCEVF/P-01/2006 and the Reglamento de Operación of the establishment, its extensions. and modifications authorized by the Dirección General de Juegos y Sorteos de la Secretaría de Gobernación.
The Rollover must be completed before requesting a payout.
Example of Rollover:
Registration/Bonus: 200%
Deposit: $500
Game Requirement: 10x
Wagering Requirement Before Withdraw:
$1000 x 10= $10,000
$500 x 1= $500
Total: $10,500

Learn More